Emergency rig descent device



Rig safety system inspires confidence in workers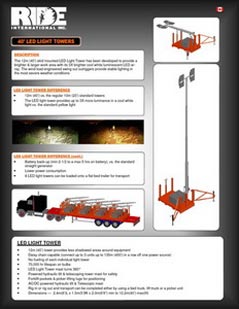 The RIDE emergency egress system puts derrick workers safely on the ground in 30 seconds or less. RIDE is a versatile egress machine that doesn't require the worker to connect or disconnect fall protection lanyards during a stressful emergency situation.
In fact, workers remain connected to RIDE's derrick safety system at all times. When an emergency happens, all they have to do is turn around, step off the platform and onto the device. RIDE does the rest!
Thanks to patented magnetic braking technology, the speed of the descent is controlled automatically. This means even injured or incapacitated workers can safely descend from the derrick using Rigscape or they can be lowered to the ground on a stretcher attached to the device.
RIDE begins to descend when it is activated by the weight of the worker. Simply step onto the device and safely descend away from the derrick. As you near the ground, the magnetic braking technology automatically slows your descent for a smooth landing.  
Here's our International Brochure
Benefits of RIDE over other emergency egress devices:
No need to connect or disconnect lanyards during a stressful emergency situation
With automatic braking, there is no worry about braking too hard or descending too quickly
Rigscape can easily be used for multiple runs. Workers are encouraged to train on the machines as often as possible so using the device will become second nature, which could shave valuable seconds off their descent time during an emergency